Ugh.
Food poisoning. Need I say more? I went wine tasting and such with my mother on Saturday. We had some fabulous wine and it was beautiful. And then she wanted to go this little earthy-crunchy, wierdass tea place. Pretty much I don't think they believe in washing anything...especially their hands. I had a tomato basil mozzarella sandwich and some soup and a delicious chai iced tea... twenty minutes into eating, I was in the bathroom.
Here's me, happy as a clam with my iced tea. Even the meal looked good...
But it wasn't. It made me SICK. And my mom got sick too. It was BAD. I felt like crap all weekend. UGH.
Even so, I needed to get things done. I made some healthy pasta bake from my own recipe!
Chicken Sausage Pasta Bake
Submitted by:
KATEBRN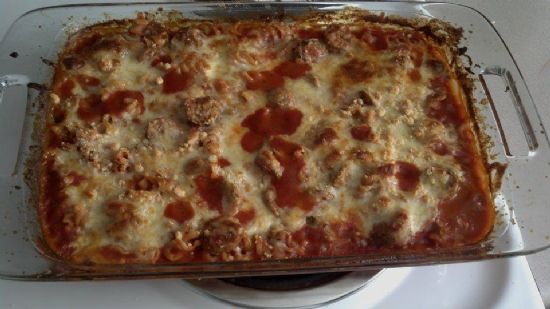 No preboiling noodles!
No preboiling noodles!
Ingredients
1 lb Dreamfields rotini or penne or other high fiber pasta




28 oz can Tuttorosso crushed tomatoes w/ Basil




3 cloves garlic, minced




1 package chicken sausage (I used target brand spinach and garlic!)




1 cup Mozzarella Cheese




1/2 cup Grated parmesean, divided
Directions
1) Preheat oven to 425. Place 1 lb dry pasta in a 9 x 13 pan sprayed with nonstick cooking spray.
2) Pour Tuttorosso over pasta then fill can 3/4 full with water and also pour over.
3) Add garlic, 1/4 cup grated parm and any other spices to the 9 x 13 pan and stir in the pan.
4) Cover with aluminum foil and
bake
for
30-35 minutes.
5) Take off foil, put on 1 cup of the mozzarella and the remaining 1/4 parmesan over the top. Bake for an additional 5-10 minutes until cheese is bubbly.
6) Enjoy! (This reheats REALLY well!)
Serving Size: Makes 9 Servings
Also for those of you who requested it, pictures of my yummy sausage stuffed zucchini boats!
I feel better now...definitely dehydrated. I've been sucking down the water like crazy. I need to relax!! Have a good Monday ya'll!