Hi all!
I haven't updated much these last couple days because it has been insane at work. I feel like I'm running from sun up until sundown. It really isn't the number of patients I have but more how high acuity they are. I feel like everyone is demanding my attention every hour of every day! And then this weekend I didn't even get a minute to myself to relax! Constant phone calls, trying to go out and do visits, not to mention trying not to lose my mind. I've had a horrible headache the last 4 days that I've been nursing with water and excedrin; I think its a combination of weather change, allergies, and stress.
But I've been good on plan until last night... yesterday was really hard for me because I got an emergent call to go see a client who has mental retardation. And he started becoming violent and coming at me, which is very frightening. Especially when you are the only person in someone's house...this person lives alone and I didn't have anyone there to help me. Long story short, I did get help and so did the patient but I was so scared. I was shaking and felt so sick...and on top of it I then had to drive an hour away to see a patient who was in a very bad mood...I was ready to cry my eyes out the entire trip home as I sat in deadlock traffic for another hour and a half.
Thankfully my mother works right near my house so I had called her and she came over...and we decided we needed to have some girl time. I didn't make the best food choices last night but I have made improvements. Instead of coming home and bingeing, I went out with my mother and I had one beer and we shared a plate of nachos. Old me would've had several beers and eaten the WHOLE plate of nachos and probably have had dessert or an entree. I still ate to comfort (Although at this point it was after 6pm and I had eaten lunch at 11:30am... so I was hungry for sure). But I think that I did an okay job of making choices.
So, weigh in today...
Previous Weigh In: 258.6
Weigh In 3/21/12: 257.2 (-1.4)
HEY! That's not too shabby! Especially with a bad meal last night!!! The upcoming week I am going out tonight for dinner but I'm going to make good choices. But then this weekend I'm going to be away. I'm going with my mother to drop my brother back off at college and we're staying overnight (its a six hour drive each way). So I need to rely on good food choices, I'll be tracking what I eat and getting lots of exercise!
Tonight I am going out on a date...yes, a date! As some of you know I started online dating and I think its been going pretty well. I'm extremely nervous...like, can barely eat nervous. I still have this voice in the back of my head that's telling me that no one is every going to want me. I'm working on this a lot in therapy and in my life...but I still can't make that voice go away. So tonight I'm going out with a really nice guy who I have a lot in common with...I'm dipping my toe into the pool of possibility! For my safety, I told my mom I was going out...and we're meeting in a very public place. So don't worry, I am being safe! I'll let you know how things go!
Today is also my day to set goals for the Ready for Summer Challenge! WOO~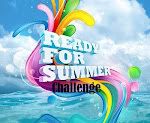 I'm setting very general goals today!
1) Weight Loss - Duing this 10 week challenge, I want to be in the 230s. So 239.0 is my goal for this challenge. That is a loss of 18.2 or approx 1.8lbs per week. I can DO THIS!
2) NSV - During this challenge I would like to be wearing a size 16/18 in pants. I also want to be comfortable dating and work on my self esteem. I want to get to know myself better during this challenge as well.
3) Exercise - Couch25K program, walking, riding bike. I am looking for a weight loss buddy to help keep me motivated. Exercise is where I have the most issues with during this. I don't love exercise but it nees to become part of my routine.
4) Nutrition - Clean eating x 1 week, I want to get away from eating so much processed food. Recipes, I would like to post 10 recipes during this challenge that I have made or have made from other people's blogs/Pinterest (Skinnytaste, Dashing Dish, etc). I will track my food religiously and stick to my nutritional levels (which I am already good at but it keeps all my other goals focused).
I'll tinker these as necessary when I go along but these seem like great goals to me! Can't wait to get started!